The Partos Calliope
I just finished building a 44 note calliope. The pipes were made from PVC. The calliope is powered by a squirrel cage blower outputting about 250 CFM at 2" WG pressure (less than 0.1 psi). The most expensive parts of the calliope were the valves - I ended up using pipe organ direct action valves. The instrument is playable via either the keyboard (obtained on Ebay from an old Hammond organ), or by MIDI control, using a laptop computer. Total cost (including MIDI interface and decoder electronics to actuate the valves) was around $600-700.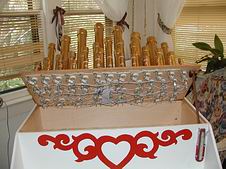 At left is a picture of the open windchest showing the valves under each pipe.


At right is a close-up of one of the valves.
Here is a picture of a typical pipe, as well as a close-up of the mouth area:
I had always wanted a calliope, but had never been able to afford one, and didn't realize it was feasible to build one until I read the great article by Dave Kerr. I basically followed his lead, with some modifications. I also want to thank Dave Lynn, who is also building a calliope, for his suggestions, especially regarding pipe design.

Here are a few mp3's of recordings of the calliope playing.
Invincible Eagle March (Sousa)
Oklahoma
Original Rag (Joplin)
Blazeaway
Ma, He's Making Eyes at Me
Pineapple Rag (Joplin)
Washington Post (Sousa)
Let Me Call You Sweetheart
Hello, Hawaii
When Ragtime Rosie Ragged the Rosary
Dixie
Alte Kameraden
Update (April, 2003): I just finished a little monkey automaton that keeps time to the music. I used the innards of an old "dancing beer can" from the eighties as the sensing and activating mechanism. Works pretty good. Click below to see a short video clip of him in action.
please send questions or comments to rpartos@cox.net